Pro Sports Bikes & Pro Twins – Race 2
Furthermore, from the press release issued by CSBK:
Tremblay won again, MacKay secured the Sport Bike title in the finals at Junior High
Shannonville, ON – The wait for David MacKay's first national title was finally over, as he officially wrapped up the Liqui Moly Pro Sport Bike championship on the final day of the Bridgestone CSBK season at Shannonville Motorsport Park on Sunday.
MacKay only needed to finish 14th or higher to seal the middleweight trophy, but there were still some nervous faces on the ODH Snow City Cycle Kawasaki team as title rival Matt Simpson took the lead on the first lap and MacKay faded into the six-rider battle. Second.
But those concerns didn't last long, as first race winner Sebastien Tremblay hunted down Simpson and snatched the race lead as MacKay let the trio of riders through to gain a more comfortable distance.
Simpson was just starting to lose contact with Tremblay and came under fire from Elliot Vieira and Brad Macrae when a crash at the bottom brought the red flag, with MacKay running fifth at the time of the stoppage.
It would be the final result, as the race did not restart and Tremblay scored the win, but the real celebrations would begin in the MacKay pits as he grabbed the only thing left of his impressive Sport Bike resume after finishing as title runner. -rising in the last two years.
"This is a long time. It's long overdue," MacKay said. "Every year this is the goal, but to finally achieve it is a once in a lifetime feeling. Now we can celebrate!"
The long-time Sport Bike pioneer was unwilling to confirm anything as he relishes the moment, but did leave a few hints about his future as many expect him to graduate to the Pro Superbike feature class rather than retain the number 1 plate in 2024.
"So many people helped make this happen, so I'm happy to pay tribute to them and now we can move on to bigger and better things," MacKay said.
The trophy celebrations overshadowed another outstanding performance from Tremblay, who ended the year in top form with his third consecutive win and second in a row aboard the updated Turcotte Performance Suzuki GSX-R750.
"It was a tough battle for me, because once again I didn't get a good start, but I was able to gradually battle through as the race went on," said Tremblay. "This was a great weekend for us. It's a shame to end it with a red flag, but it's great to be able to show off a cool bike on the 750."
The win – the 12th of his Sport Bike career – also moved Tremblay one clear of Kenny Riedmann (who attended SMP) for fifth on the category's all-time list, while he tied MacKay for tenth on the all-time podium list . as well.
While Simpson hopes to claim the title in the final race of the year, the Blackstock Motorsports Yamaha rider was delighted to end his breakthrough season with a podium finish in second place as he builds up to potentially another title challenge in 2024.
"We knew it would be hard to get points, but it's been a great battle with David all year so we tried our best, and congratulate him," Simpson said. "It's obviously sad, but coming home second today and being champions makes us pretty happy for the season."
Rounding out the podium was Vieira, who continued his streak of four consecutive podium finishes while continuing to dominate his GP Bikes Ducati.
"This is not the year we wanted, but we are happy to be on the podium again here today," said Vieira. "The bike controlled really well and we started to get into a good rhythm, so hopefully this can continue next year."
A Suzuki-Yamaha-Ducati line-up on the podium means that Kawasaki's record streak of 34 consecutive races in the box will finally come to an end, a stretch that dates back to St-Eustache in 2018, although they are unlikely to lose any time in thinking about it. after MacKay helped secure his 15th Sport Bike crown and third in a row.
Just missing out on the podium was Macrae, who put all sorts of pressure on Vieira and managed to pass the Ducati rider before the red flag came up, leaving the Colron Excavating Yamaha team seventh in the final standings.
Double amateur champion Mavrick Cyr was a breakout star early in his professional debut, opting to leave the amateur ranks early after capturing both titles on Saturday. The 18-year-old Rizzin Racing Triumph rider worked his way up to sixth place in the opening lap and on the podium before taking ninth place in his maiden appearance.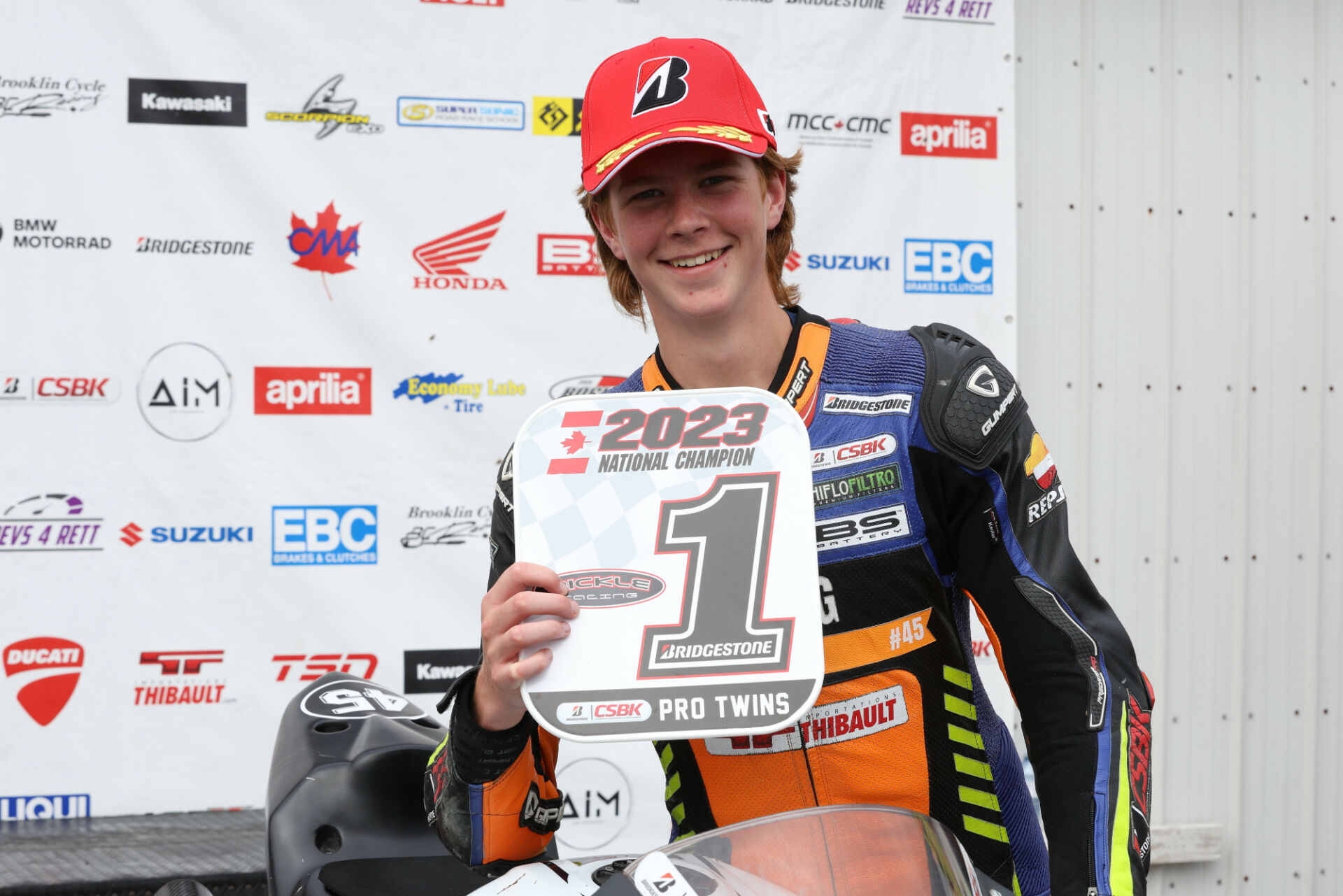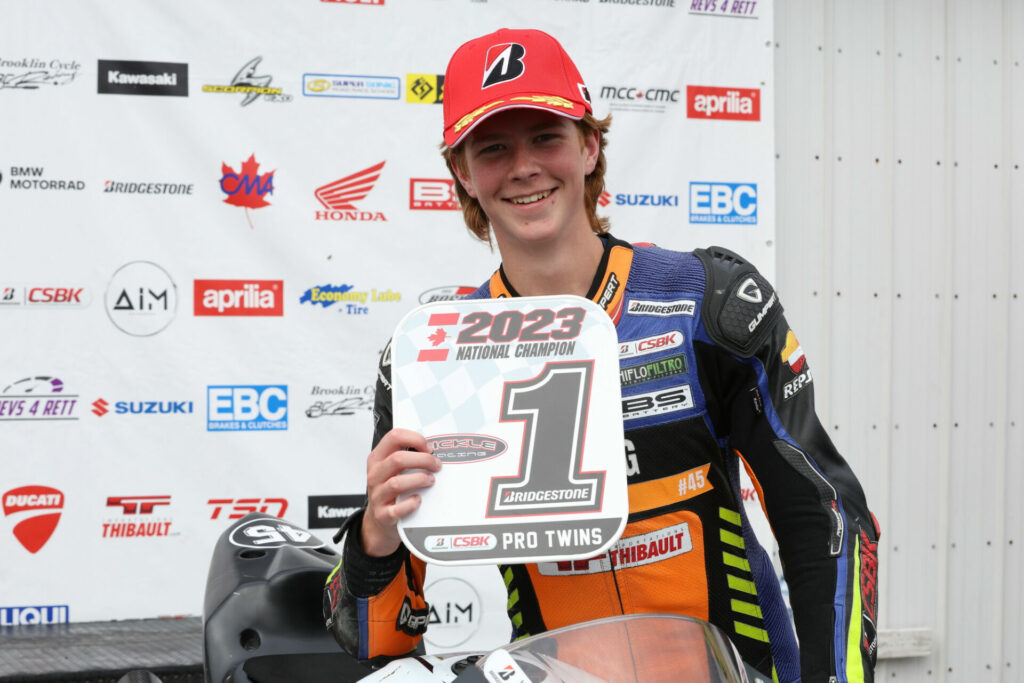 Another teenager who enjoyed a fantastic day was Andrew Van Winkle, who became the youngest pro champion in CSBK history by winning the Bickle Racing Pro Twins class race.
The 16-year-old FD Racing Suzuki star didn't even need to come in on Sunday as he was four points ahead of the injured and sidelined Jeff Williams, but added an exclamation point to his sensational year by beating veteran Hans Van Sleuwen as he celebrated a historic title from the top of the box .
"It was a tough few laps, and actually I had some scary moments out there, but I'm here to talk about it so everything ended up OK," he joked. "I was also very happy to win the race and excited to take home the #1 plate."
The Chilliwack, B.C., phenom says he's undecided on whether or not he'll defend that championship, with a possible move to the front of the Sport Bike class for the inaugural Twins champion.
Complete results from Sunday's final day of the Sport Bike and Twins season can be found on the series' official website at CSBK.ca.
"Coffee enthusiast. Hipster-friendly social media fanatic. Certified zombie expert. Problem solver."