Bisnis.com, JAKARTA – Satellite images taken on Monday (28/2/2022) show that the convoy Russian military North of Ukraine's capital, Kyiv, has stretched about 40 miles (64 km), far longer than the 17 miles (27 km) reported the previous day.
Maxar Technologies MAXR.N said that the deployment of additional ground troops and ground attack helicopter units was spotted in South Belarus, less than 20 miles (32 km) north of the Ukraine border. Air sirens were also heard in Kyiv, Vinnytsia and Bila Tserkva on Tuesday morning (1/3/2022).
Russian troops based in the country's Far East will hold drills in the Astrakhan province, which lies on the border between the European and Asian parts of Russia, Russia's Eastern Military District explained on Tuesday (1/3/2022), as quoted by The Jerusalem Post, Tuesday. (1/3/2022).
"The troops will train in long-range military unit movement, among other tasks," the District Command said.
Disconnected Communication
According to Derzhspetszviazok (Ukrainian State Service for Special Communications and Information Protection), State Technical Intelligence and Security Service, Ukraine has cut off communications for Russian mobile numbers.
In response to this, Russian troops reportedly confiscated cell phones from Ukrainian citizens. Derzhspetszviazok advises those whose phones have been stolen to contact the operator and block the number.
This is despite the fact that they will need a phone to contact the operator in the first place and Derzhspetszviazok admits the difficulties.
"We understand that doing this when your phone is stolen is not easy," the service said. "However, this is very important. Find a neighbor who has a phone, use a landline. The security of our country and the lives of Ukrainian citizens depend on it."
Foreign Volunteers
In addition, Ukraine will allow foreigners traveling to the country to help fight Russia without a visa, according to a new decree signed by Volodymyr Zelensky, President Ukraineand comes into effect Tuesday (1/3/2022).
The decree allowed all foreigners to join a new unit of foreign volunteers, known as the International Legion of the Territorial Defense Forces, except those coming from Russia.
A new unit for foreign volunteers was announced on Sunday (27/2/2022), with Ukrainian authorities saying that the following day, thousands of people had signed up to join. Several young volunteers traveled directly to Ukraine to apply.
Meanwhile, others applied at Ukrainian embassies and consulates before quitting their jobs or dropping out of university.
A Texas software developer and a cook in British Columbia, were among dozens of Americans and Canadians who answered Ukraine's calls.
"I feel guilty for not leaving," said Dax, 26, a veteran of the elite 82nd United States Airborne Division infantry elite, who plans to deploy with other former US military personnel. Like many volunteers, the Alabama native declined to give his full name amid discussions on social media about the need to keep their identities and movements a secret for security reasons.
Canada's Bryson Woolsey quit his job as a cook on Sunday after seeing President Zelensky's appeal. He had no military training and planned to buy a plane ticket to Poland, then cross into Ukraine and volunteer for the battle.
"I felt like I had to do something," said Woolsey, 33, from Powell River, British Columbia, who became agitated when he saw images of injured women and children in Ukraine.
On Sunday (27/2/2022), Melanie Joly, Canada's Minister of Foreign Affairs, told reporters that it is up to individual Canadians to decide whether they want to join Ukraine's international brigade or not.
In Austin, Texas, a software developer said he would use his experience as a US Army cadet to fight for Ukraine.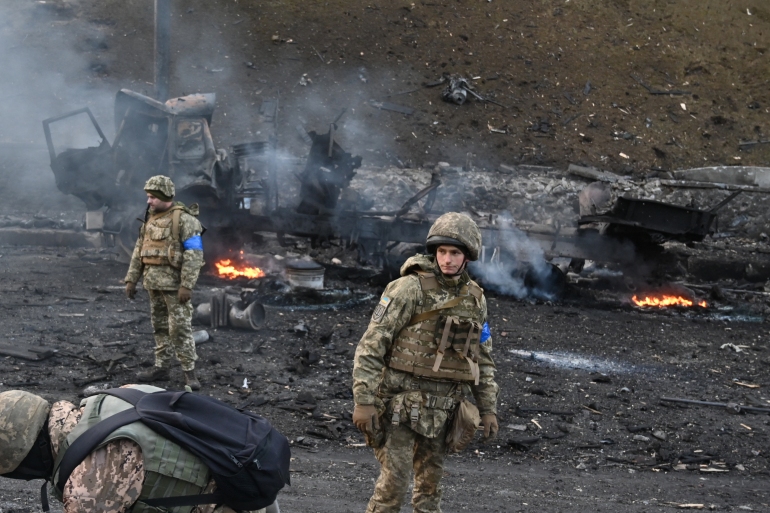 "If they want to defend democracy, then I think those who benefit from a democratic society are obligated to support them," said the 25-year-old, who asked not to be named. "I won't tell my parents until I go to the airport."
In Quebec, Julien Auger, a 35-year-old doctor, is preparing to leave his family to become a medic in the Ukrainian Ministry of Health and provide 'neutral' humanitarian assistance.
"Global opinion and support is the key at this time to resolve the conflict," said Auger, a father of two who provides palliative care at a hospital in Saint-Jérôme.
Ongoing Fight
The fighting in Ukraine was fierce with reports of heavy Russian bombing across the country. According to President Zelensky, Russia has reportedly carried out 56 rocket attacks and delivered 113 cruise missiles to Ukraine since the invasion began.
Russian troops are also reported to have opened fire on the city of Kharkiv, which Zelensky accused of a war crime.
According to Oksana Makarova, Ukrainian Ambassador to the US, Russian troops used illegal weapons known as vacuum bombs against Ukraine.
Vacuum bombs use oxygen from the surrounding air to produce a high-temperature explosion, typically producing a blast wave with a much longer duration than a conventional explosion.
Although the fighting has been fierce and Russian troops are still advancing, the General Staff of the Ukrainian Armed Forces said it was unlikely that Russian troops would attempt a naval landing in the coming days.
Watch the selected videos below:
Premium Content
Login / Register
"Coffee aficionado nerd. Troublemaker. General communicator. Gamer. Analyst. Creator. Total brew ninja."